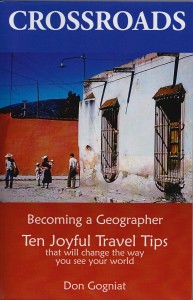 Great news for those of you who've been meaning to read my book "Crossroads: Becoming a Geographer, 10 Joyful Travel Tips That Will Change the Way You See the World." Starting today and running through Friday, the book will be available as a free download on Kindle.
Click here to download your copy, and if you like the book, feel free to leave a review. Thanks in advance for reading and for any help you can offer promoting "Crossroads."
I'm really excited about the book and hope it might impact your next adventure.