Inspired by the many beautiful people he's come across on his travel and driven to share a message of kindness, Don created the Kind Eyes Around the World site to showcase photographs of kind eyes.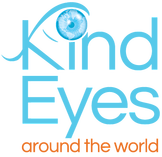 The goal of  the site is to have photographs of people with kind eyes from all 194 countries in the world. To accomplish this, the site accepts submissions to its online gallery."A world filled with people sharing kindness – a nice thought," Don writes.
Visit KindEyesAroundtheWorld.org or upload your photos and join the Kind Eyes Around the World community on Facebook.