"Crossroads: Becoming a Geographer, 10 Joyful Travel Tips that will change the way you see the world"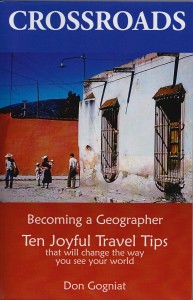 By Don Gogniat
Don Gogniat is not only passionate about visiting new places, but also absorbing the lessons those locales near and far have to offer about his own life and the greater narrative of humanity. The educator has also spent a significant part of his life teaching others (while also learning from them) about how to appreciate different views of the world.
In "Crossroads," Gogniat's condensed what he's learned through decades of travel and life in academia into a roadmap for a more holistic and deeper understanding of the world around us. He focuses on 10 joyful travel tips with short personal stories to illustrate the significance of each tip.
The tips and stories allow the reader to see the world just a little differently no matter what new environment they may be experiencing.  Also, it contains short lessons in finding ways to appreciate what you are looking at – a primer in cultural geography, a discipline that allows us to understand why places are as they are and form stronger connections with the places we visit.
Available on Amazon.com in paperback for $19.95 or for Kindle for $9.99.
Buy the color edition in paperback (Amazon Fulfillment).  The photos and maps are worth the extra money.
Reviews
Popularizing Geography – 5 stars
Crossroads is terrific. It reminded me of something a friend once told me. He suggested that, in a world where (it seemed like) everything had been sufficiently theorized, the big task was now to popularize the theories of respective fields. I think that's what Croosroads does. It does a great job making geography popular. It would be especially helpful to students about to embark on an around-the-world voyage, or a trip not too far out their back doors.
From my particular vantage point, I most enjoyed the narrative material embedded in the book. Lots of memorable travel stories that teach short lessons about appreciating our world.
– James M. Jarrett (via Amazon.com)
I highly recommend this book to everyone – 5 stars
I highly recommend this book to everyone, whether you love to travel or have never traveled in your life, whether you are traveling internationally or within your own country, whether you are soon to be traveling or recently returned, whether you work with international programs or not; ultimately, if you are mindful (or want to learn how to be mindful) of the world we live in and the people around you, Crossroads will indeed change the way you see your world. Read this book and learn how to travel in a meaningful way, learn how to thoughtfully immerse yourself in the experience, and begin to not simply open your eyes to different ways of life, but to appreciate and understand other places and people.
– Jonathan Paulo (via Amazon)
This is an excellent book – 5 stars
This is an excellent book, whether you are a world traveler or not. I don't have the same wanderlust that the author does, but I've traveled and seen enough to realize that I, too, am a VERY lucky little bunny. The stories in the book are very entertaining and make you realize how important it is to pay attention to what's around you and appreciate others. The advice can be used when traveling or to broaden your horizons at home: smile, think about trading shoes with others, practice humility and kindness. This kind of advice just makes the word a better place!
– Wendy Poer (via Amazon)
A celebration of the fact that we learn best by doing – 5 stars
This book was written in celebration of the fact that we learn best by doing, by walking through histories and reaching out across cultures and tasting and smelling and listening to that richly cacophonous collage that is the world. Don, a geographer not only by trade but by calling, offers this book as an entryway to a certain kind of learning. It is an invitation to take his earned experience and apply its wisdom to your own inevitably formative travels. It is an invitation to open yourself to the expansiveness of every day–conveyed through the lens of a learned professional but enjoyed like a warm cup of tea on a morning filled with promise. By pairing anecdotes with geographic jargon and advice with personal photographs, this work becomes less a textbook and more a companion, opening the door to an education that will endure a lifetime.
– Caitlyn (via Amazon)